Organizing Handbags with Style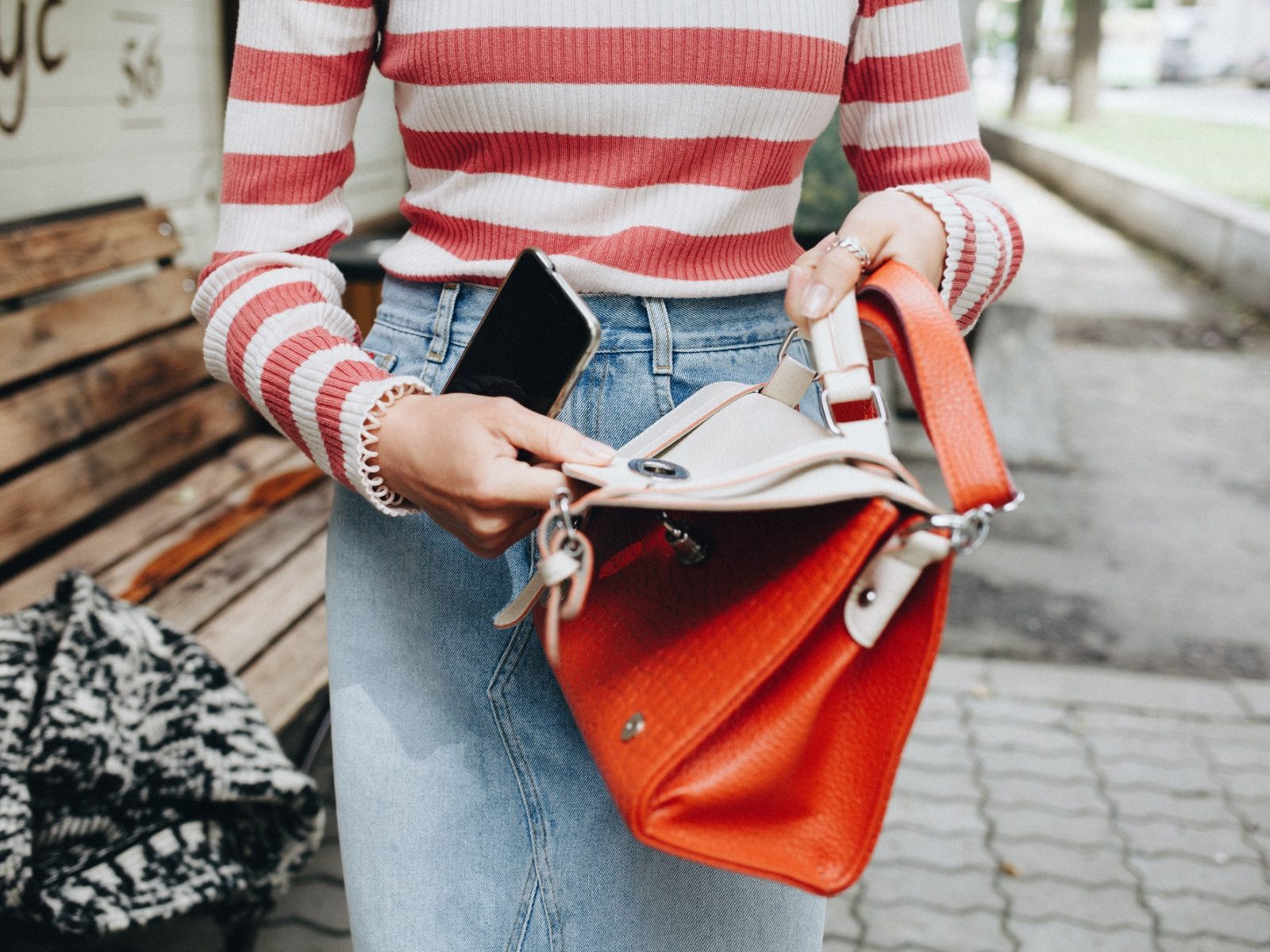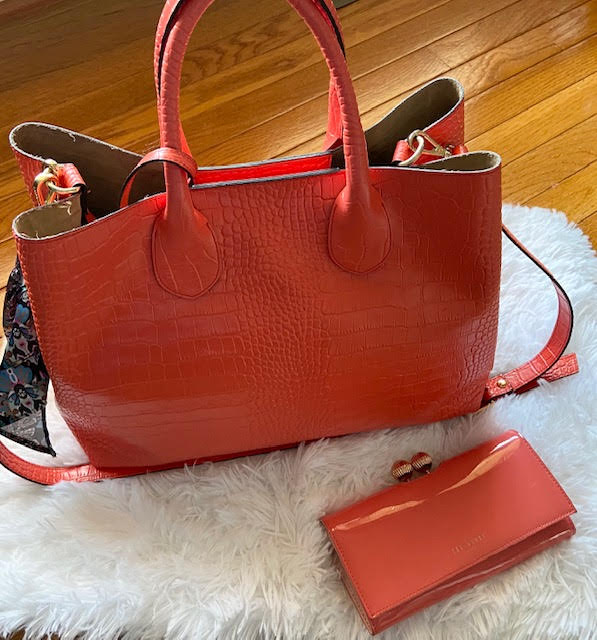 Handbags and its contents says a lot about a person's personality. If you are a person that is not interested or could care less about the look or the detailed function of a good ol' fashionable handbag… STOP READING, this article is not for you!
However, if you appreciate a well-made, solid quality, textured variety with classic hardware handbag, then carry-on!
While it is important to ensure the handbag or purse (A.K.A. arm candy) of your choosing meets your needs and works overtime, next to the importance of doing so in an organized manner is style. It does not matter if you tend to carry the same bag everyday or enjoy rotating through a good variety depending on mission, practicality or look of the day. (Good or bad, I have always been inclined to the latter.) Having a sturdy bag is essential–PERIOD. I have also stored handbags in many ways imaginable–in bins and baskets, on shelves, on hooks, closet rods, bags inside of bags and over-the-door organizers and, the winner for me are shelves! They are clearly visible, out of sacs and between acrylic shelf dividers to help them stand upright and protect leather (especially patent leather) from dye transfer. Out of sight, out of mind, so I need them visible. However, I still use a hybrid storage in my closet that also includes hanging flat hobo bags in heavy rotation on closet rod with shower curtain hooks, storing infrequently worn clutches in one labeled bin, and using an over-the-door handbag holder… why? because I adore purses. I manage to contain all my handbags in one closet within the allotted space. I am no where a minimalist nor plan to be with handbags as they bring me much joy. However, here is what I have learned over the years of wearing and maintaining many handbags:
Select your handbag based on your planned style and more importantly activities — if you prefer to not switch your handbags frequently, then a multi-purpose bag that may be used casually around town or out to dinner is for you.



If you tote quite a few items

then satchels and totes are your best bet to preserve the health of your back and shoulder.


If you don't change bags frequently, then make the investment in a well-made, stitched, durable bag that can go the distance with daily use. I am a sucker for textured/patent leather bags (as pictured above) and bags with unique and distinct hardware (oh and feet are a must)!



Organize the inside of your bag by compartmentalizing. Many handbags have sections and compartments for storing and grouping items, I however do not like compartmentalized bags as I find things are rarely that visible and time-waster opening two to three different compartments before finding needed items. Give me a handbag with wide open space where I may either use smaller pouches to separate and group items; use a "purseket" or purse organizer to separate and tote items or a combination of both. I again use the latter. I like breaking items down in mini pouches as it makes it easier for me to remove that pouch when category not needed on that particular outing. However placing those pouches and wallet in a purse organizer allows me to easily lift insert and transfer to new purse with ease.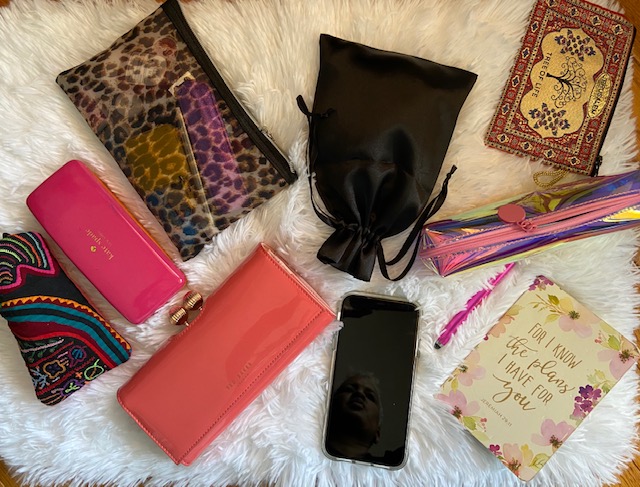 The benefit of having items compartmentalize in pouches is it makes removing items not needed with ease (i.e., I don't necessarily tote the pen/pencil pouch everywhere, but I sometimes add my Agenda). Finally placing all these items inside of the purse organizer (below left), makes it convenient to lift items as I transfer to new handbag without having to move each item individually (below right). The only items I rarely place in purse organizer are keys. My keys are usually kept in the inside zippered pocket of my handbag.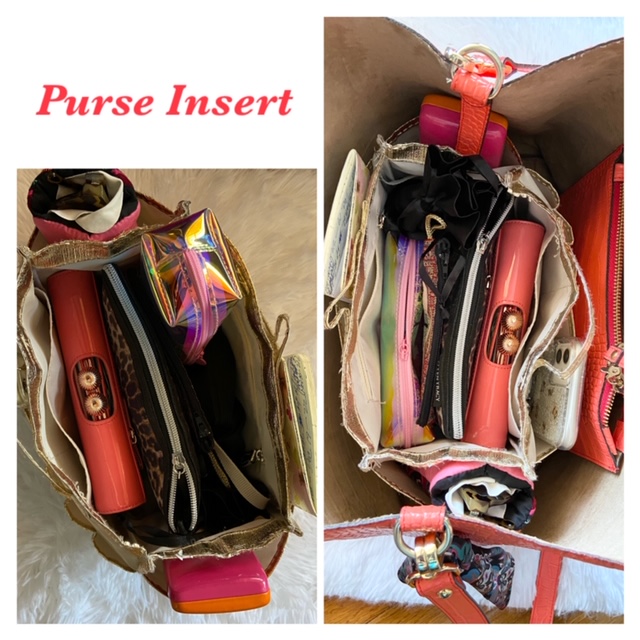 At the end of the day whether your preference is to use the same bag every day or rotate various bags fashionably, it is all a personal preference, but learning to choose, care for, organize and style your bag is universal. If using the same bag from week to week, schedule 15 minutes a week to rid yourself of trash and items not needed in the upcoming week (i.e., gum wrapper, receipts). A handbag is an investment; protect and care for your investment and it will serve you well for years to come. Choose one or many, but keep it organized and wear it with style. In the words of Coco Channel "A girl should be two things, Classy & Fabulous."