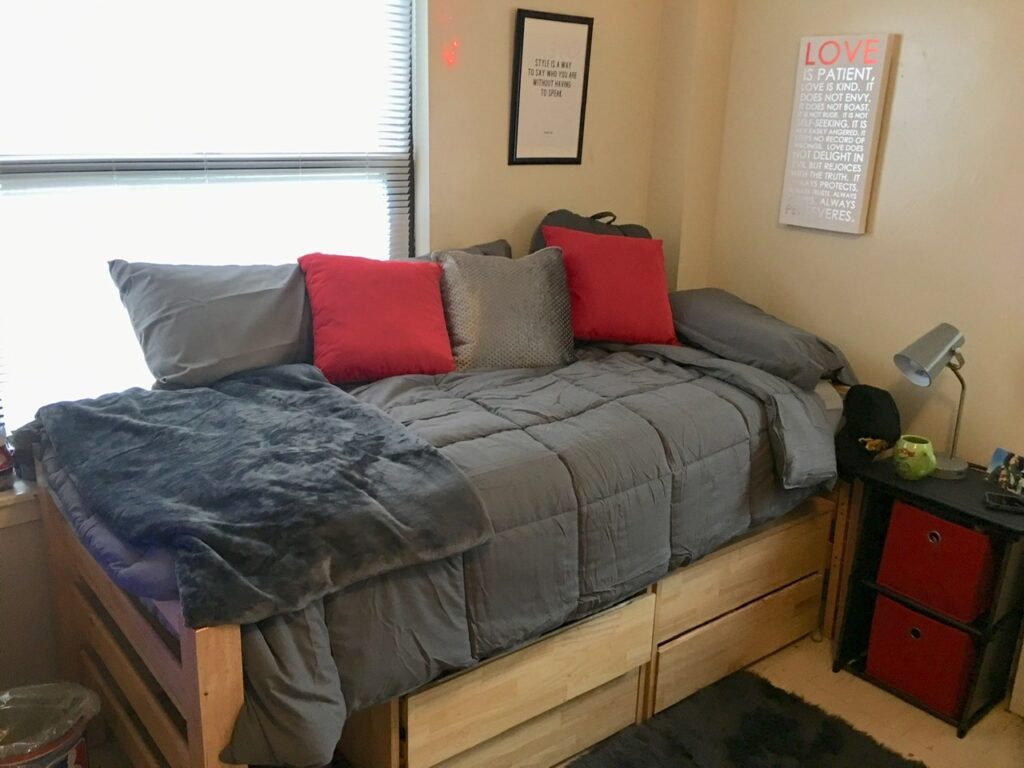 It's time for the start of a new school year and for some, the focus is readying your little ones for school. So happens, our youngest is entering his Senior Year of college. Sending love and sharing tips to the first-time on campus students and their parents via this College Dorm edition. 🏫📚🛏
1️⃣Obtain a College List of standard dorm room items (internet search, Pinterest) BUT when in doubt talk to other parents and students to determine what they found useful. Turns out 2 plates, 2 bowls, tumblers, disposable cutlery, cups and forks were highly desired. My son held his ground on not taking dishes even if the cost was $1.  Experience is the best teacher.
2️⃣Invest the time up-front planning and organizing students belongings (even when they think you are doing too much). Parents: It's a way to have fun conversations, get them somewhat excited and more importantly set your mind at ease.
3️⃣Establish a color scheme/theme up front; it reduces decision fatigue and makes shopping a lot easier. Our son chose charcoal gray but when asked for a color pop he was not interested.  Tip: I had him ask his roommate for his color (red) thus the cohesive gray with pops of red decor in their room.
4️⃣Group like items and pack by zones even for a shared room. You are usually allowed a very limited time on campus to unpack and setup. Here are a few categories:        
•Hanging clothes transported on hangers grouped with heavy duty trash bags.)
•Folded clothes (at least when they left home) and undergarments separated in travel packing cubes and transported in suitcase.
•Shoes: box or bin.
•Desk and school supplies. Laptop and more importantly a laptop lock or small safe to secure
•Kitchen, food and paper goods
•Cleaning items: a must for parents who clean and disinfect first! Tip: that was the first bin I carried to the room and went to work cleaning while they unpacked the vehicle.
•Linen and Bedding. Mattress cover, extra padding and pillows a necessity.
•Health and Hygiene: handle caddy to transport essentials to and from bath and shower shoes
•emergency kit
•Decor and accessories—my faaaaavorite part! 😂😂😂 The throw rug really grounded his space.  A lamp and a collapsible chair for guests, stored under the bed when not in use was key.
5️⃣Essentials: Tools (screwdriver, hammer, 3M hanging products) and a move inventory packing list.   Number and label boxes/ bins and prepare corresponding listing of  contents; it helps to quickly find needed items.
Above all this, have your student have accessibility to one comfort item in his space for him to feel at home. Can you guess what items were of greatest importance to him? A small TV and PlayStation 🤦🏾‍♀️. His roommates was Netflix on his iPad.  Like with anything else in life, there needs to be a period of self care. He established his up front. Have a safe and productive school year all!
  ————————
TAKE ACTION
1️⃣  Visit website at www.divineorder4u.com and book a FREE initial 20-min Discovery Phone Call to discuss your desired goals.
2️⃣  Following initial discovery Accountability phase: you schedule a 30-min Virtual Organization session(s) and we meet. Sessions are conducted via FaceTime, Zoom or Google Duo.
3️⃣  We follow-up with your detailed plan to include recommended products. 
Remember to schedule your initial 20-min FREE Discovery call and let's chat about how I can assist YOU in meeting your goals to living a SIMPLIFIED LIFE!